Tip to Tip Challenge Report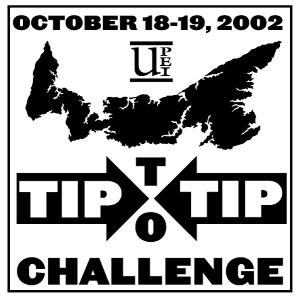 The first annual Tip-to-Tip Challenge in support of the UPEI-FA Scholarship fund was held on Friday, October 18th and Saturday, October 19th. Thirty people ran, walked, biked, and motorcycled across PEI to raise nearly $2,000 (and counting) toward this important program.
The infamous "Guardian" photo. Shannon Murray and Larry Hale representing those who hiked and bicycled across PEI, respectively. Robin Neill and David Sims organized the motorcycle portion of the event.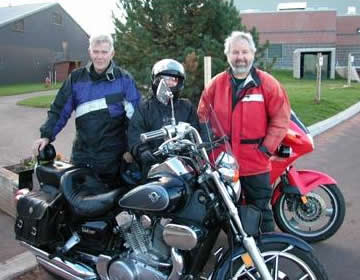 Robin and Sharon Neill, and David Sims, Robin and Sharon Neill, and David Sims, circumnavigated the island by motorcycle in about five hours.
Thank You to All!
We wish to thank all of our donors, the organizing committee, and especially all of those who participated in this event:
Cathy Callaghan
Barb Campbell
Alice Crook
Barb Curley
Doug Dahn
Kendra Day
Mike Edmonds
Shannon Fitzpatrick
Anne Furlong
Kathy Gotschall-Pass
Rosemary Herbert
Catherine Innes-Parker
Richard Kurial
Derek Lawther
Peggy Leahey
Richard Lemm
Geoff Lindsay
Barry Linkletter
Debbie MacLellan
Don Mazer
Donna Murnaghan
Shannon Murray
Robin Neill
Sharon Neill
Tara Nogler
Gordie Noye
Fiona O'Donoghue
Tim Ogilve
Sheldon Opps
Andy Robb
Dan Ryan
Katherine Schultz
David Sims
Philip Smith
Grace Vos
Gerald Wandio
Lori Weeks
A special thanks to the UPEI Biology Club for organizing the post-event barbecue.
---
Tip to Tip II is Coming!
The 2003 version of the event is being planned! More information will be forthcoming in April or May.